Vibramoov
Vibramoov offers a unique neurorehabilitation therapy by maintaining the functional interaction between movement and proprioception throughout the recovery process.
Vibramoov enhances both the rate and potential for recovery as the system may be used safely at the earliest stages of recovery; even earlier than typical robotic interventions.
Early intervention is very important to maximise the rate and extent of recovery as prolonged immobility brings about secondary effects that can be very hard to overcome when therapy is delayed.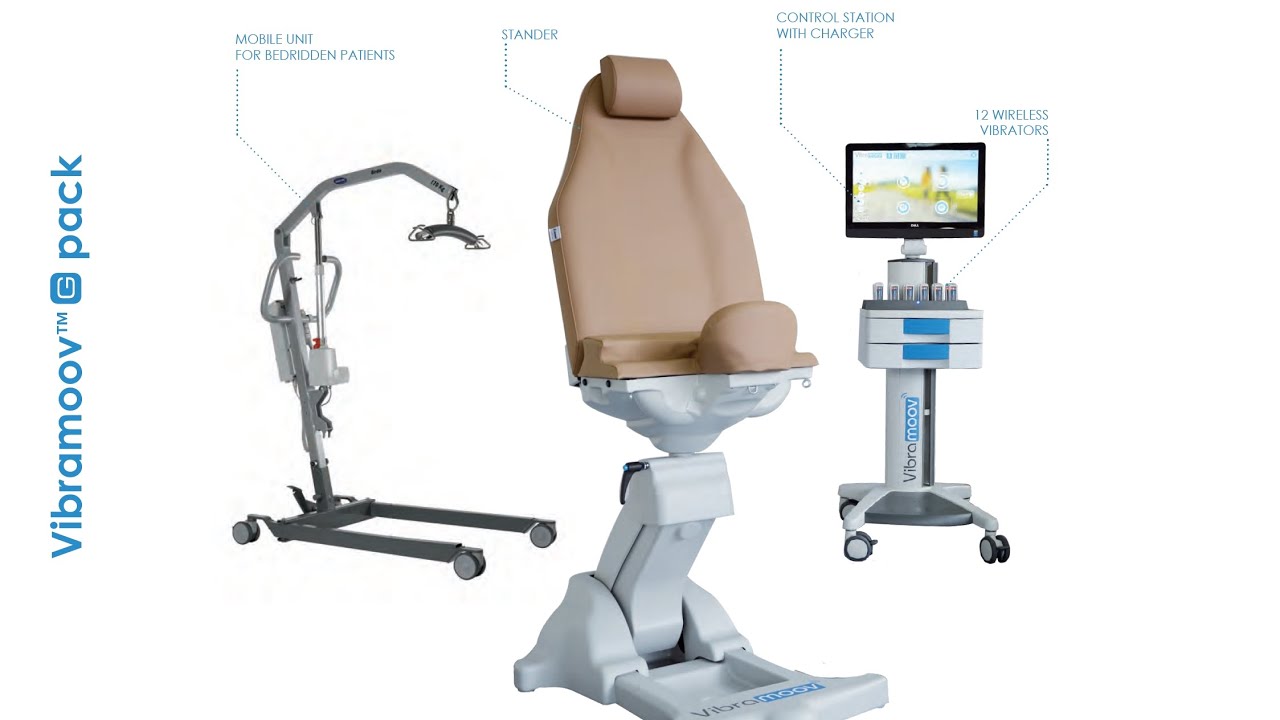 3 stages of treatment:
TREATMENT DURING THE ACUTE PHASE OF REHABILITATION
The Vibramoov mobile unit enables very early specific treatments to bedridden patients in order to preserve their locomotor pattern. This treatment gives them the sensation that their legs move and drives them to realise important motor responses mimicking these sensations.
GAIT SIMULATION WITH A SUPPORTED POSTURE
Vibramoov is adjustable to the patient's capabilities and rate of progress. With the adjustable "stander" unit the body of the patient can be placed in an optimal posture to experience and realise various movements approaching those of gait.
ADVANCED TREATMENT IN STANDING
The Vibramoov stimulation patterns applied during patient standing facilitate the rehabilitation of postural control and drive the patient to re-initiate the gait.
Usage of Vibramoov in case of:
ataxia, brain injury, dystonia, cerebral palsy, neurological diseases, Parkinson's disease, sclerosis, stroke, spinal cord injury, process of aging.
Advantages of Vibramoov for our patients:
Prevention of sensory-motor deprogramming
Early, continuous and repeated rehabilitative action
Locomotor training
Stimulation of neuro-plasticity and motor recovery
Regulation of muscle tone with reduction of spasticity
Central action through peripheral stimulation
Continuum of neuro-rehabilitation
Application to many locomotor disorders
Increase and enhancement of daily rehabilitation